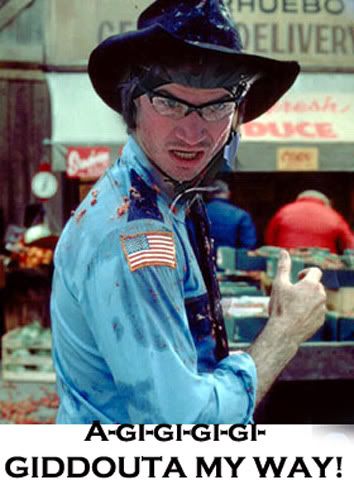 This seasons's first official CX post begins where we started off
last year
. At KC Cup
Cyclocole
showed us all that he had been ready for the open class since the Bush years. r5 heard he demolished the field at Swope, finishing second only to
Deuce-Bagalow
. Was there any doubt that he was 'baggin big time last year??? It'll be interesting to see how he does on a course with a little less singletrack against the boys in orange. r5 predicts that Bill will be tossing his bike more than once this year after getting smoked by Cowtown. And speaking of which, the orange let down in Hermann doesn't count since it was only two friggin laps. Come to KC and get another taste, Shotgun.
A new feature this year will be the anti-baggers of the week. Dudes who might wanna cat-the-fuck-down after last weeks performance:
1. Richard Who-Dat:
dude
almost got called out last year, CTFU like a man, but got lapped by all the 3's at Swope.
2. Poo-Face: dude got
called out
in the 3's last year, but then also proceeded to get thoroughly smoked at Swope.
3. Oh-Face:
dude
wants to race open but got smoked by
St Louis racers
in the 3s!??
4. Haynes-her-way:
dude
should just be doing the girls race. Juniors that is.
And finally whats up with all you road weenies wrapping your bikes and faces around the trees in the singletrack? Props to 360 for making a CX course thats a little more CHALLENGing than a roll in the hay with your second cousin.