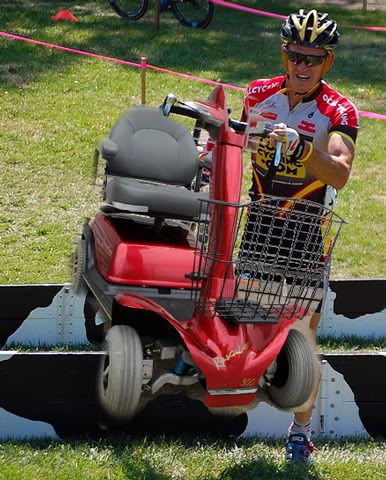 This dude is like the Tilford of the 4's.
Moses Fancher
is almost as old as the hills but is crushing dudes who will be subsidizing his Medicare for the next few decades. He might arrive on a Jazzy, but he races like an InATub taco through your digestive tract.
Check out his record in the CX4
"BEGINNERS"
category:
-21+ races since 2007
-6 wins:
FIVE
last year and starting off 2010 with another one on what will be one of the toughest courses of the season at Manion's Cross.
-Countless top5's
-Way more than enough points to upgrade.
-His TT times places him in the Cat2 range, coming within seconds of guys like Bleser, Weinbeck and Price, and beating guys like Songer and Bissell who are all racing CX3 and above.
Its time for Moses to stop toying with the boys in the 20 minute race and start ripping legs in the 50+ minute 3's where he belongs.
On a scale of 1-10, this dude scores an 11. +1 for starting off the new season with a friggin win.
EDIT:
r5 forgot to mention that it appears that the Crashovita crew struck gold with this venue. The hillside course flowed smoothly and had lots of great features. You wouldn't know you were in Kansas with the view from the top. The beer was flowing, the tacos frying, and cowbells banging. 2010 KC cross season is off to a good start.