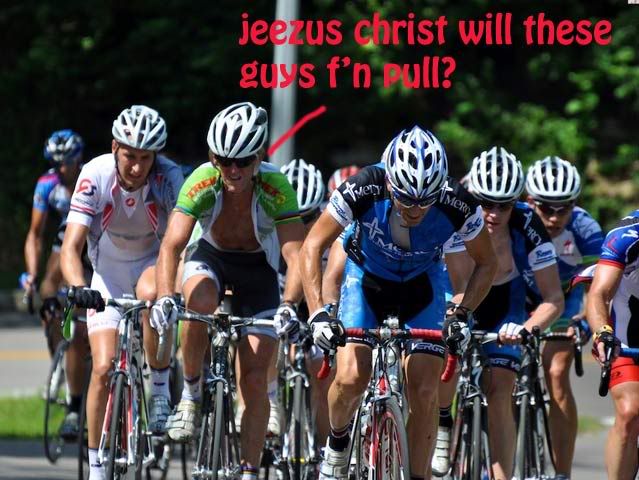 KC road season is practically at an end and as much as r5 loves cross, its a tad too hot for skinsuits and Mad Alchemy. Maybe a few of the new teams in town should join together to fulfill their USAC obligation to sponsor a race...(cough innatubba-bigdavita-shackstrong)
While SKC proved that it is possible to put on a race in KillaCity and post results in a timely manner, course design could use some work. Cliff Drive of course is the best and toughest race in the area. Guys who PUSS OUT on Cliff Drive and just do the crits should be forced to ride in fishnets and on tampons jammed into their seatposts. Even r5 has been known to haul his fat ass up the gooseneck. Suck it up and race it bitches.
Longview is just plain whack. Dump it and sub in KCK if you can't find something else. Power and Light should either actually be in Power and Light or at least be lengthened to more than the circumference of
Butt'r Ball's
gut. With a half mile crit, gettin lapped and watching Mercy refuse to chase is as inevitable as a Crashovita pile up. What we need around here is a few more hungry 1-2's that arent wearing blue or green which brings us back to the whole point of this blog...
CTFU repeat offenders and doublebaggers galore this weekend!
Dudes who are well on there way to the next cat:
Hershey Squirts
,
Alicks-Two-Firstnames-Roberts
,
Don't-Call-Me-Suge-Knight
,
The Original Bagger Cole
,
Kent-I-have-cool-tats-like-Nashbaggers
Dudes who are way overdue and who's parents should be way ashamed of:
I-Wont-CTFU-Because-I-Race-for-DOUCHO-TEK-Stover
,
I-Keep-Eatin-Buttr-and-Still-winning-Hollaron
On a positive note, previously called out 'bagger
Skinnnner!
finally CTFU and DID JUST FINE AT THE NEXT LEVEL.