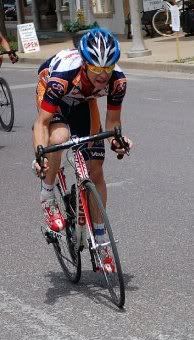 Despite Jim Twittaker's
challenge
to the local cycling community to develop more Cat1-2 racers, he seems not to apply it to his own team full of sandbaggers. In case you missed it, he said:
"I challenge the KC Metro area cycling community to develop more Cat 1 and Cat 2 riders so that my team of baggers can sit in the lower categories and rake in the dough."
Young
Bent-Over
had a tremendous weekend in Tulsa with a win and a 2nd despite holding back on the first night due to his own admission that he didn't want to get a forced upgrade. This wasn't no podunk circus race around the campground where he dominated the local 3/4's early in the spring and accumulated more than enough points to upgrade. This was some for real competition against other well known 'baggers. Don't go down the
Cryin-Ryan
lifetime Cat3 path, its not too late for you Ben. You are more than ready.
Speaking of
Butt'r Ball Turkey
, despite eating all those sticks of butter and not having time to train because unlike ANYONE ELSE WHO RACES, HE HAS A JOB AND A FAMILY, he continues to sandbag and grabbed himself a 2nd and 3rd this past weekend. He is an inspiration to all the fat kids out there developing their fast-twitch fibers chasin down the icecream man. Gimme a break, its time for you to CTFU!
And BTW
JB
, r5 gives you the OK to downgrade after watching you get blown off the back of our 3's field. At least you raced, UNLIKE THE REST OF KANSAS CITY. Not a single 360 or D's Recycling or Epic jersey in sight in Tulsa. WTF?
For those of you who pussed out and stayed home, you missed out- Tulsa knows how to put on a party! How about we try lining the gooseneck at Cliff Drive with a few kegs drums and trombones?